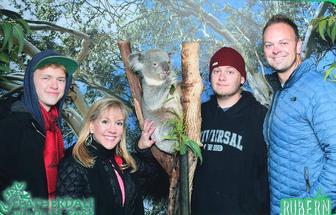 BOWMAN FAMILY
It was the fall of 1994 when Travis met the love of his life at a church in Maryland, and they were married in 97′. Michelle might be 16″ shorter than her husband, but he truly would be half a man without her.
BOYS 2 MEN
Shortly after Travis and Michelle married, they moved to the Seattle area and both of their boys were born in the beautiful Pacific Northwest. Travis has been very involved in Men's Fraternity and Promise Keepers for the past 20 years, and he is passionate about raising boys into Godly young men. He has been on the board of Battle Ready Men for several years and in 2016 he launched Battle Ready NC as a BR chapter for the Carolinas.
"Travis has a unique way of teaching the Word while bringing his famous ancestor to life."
TRAVELING
It's a good thing that Travis enjoys planes, trains, and automobiles because between his two companies he's in a different state almost every week. When he's not traveling for business, he enjoys taking the family to see historic sites and experiencing the great outdoors.
CHURCH
Travis' family are members of Christ Community in Huntersville, NC. Michelle sings on the worship team and mentors younger ladies in the area, and Travis works with the men's ministry and enjoys shooting video's for church. He has produced a couple of dozen short videos through the years, but one of his favorite was a street video that is called "What is a Man?". Travis also enjoys comedy and he was part of a viral video called "Redneck Ten Commandments" while on a missions trip in Alaska.