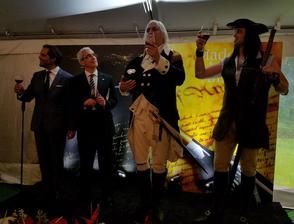 Author, Actor…Turned Producer
Travis began acting at age five in school and church plays so bringing "LUSO" to life in his mid-thirties just came naturally to him.  Peter Francisco was famous during the Revolutionary War for his extraordinary height, massive strength, and unbelievable bravery.  He was so big that George Washington had a 6′ broadsword made for him and even stated that we could have lost the Revolution without him.  Today, 5 monuments stand in his honor, 7 states observe Peter Francisco Day, and he was enshrined on a US Postage stamp in 1976.
Travis brought Peter Francisco to life for the first time in 2008 and – as they say – the rest is history.  He has now performed over 100 times to tens of thousands of people around the world including the First Lady of Portugal.  He has been a guest on several nationally syndicated radio and TV shows and his work has been published in several dozen newspapers  around the world.
"Your performance was immensely enjoyed by the 2,125 who visited the Embassy…"
Hercules of the Revolution was released in 2009 as a novel based on the life of Peter Francisco. Travis worked with two co-authors to pen this 430-page book and it has been purchased by readers all over the world.  Best-selling author, Robert Whitlow, called Travis' book "the American Braveheart story" and another reader from Amazon.com said, "…it gave a Band of Brothers type feel to the American Revolutionary War!"  In 2016, Travis re-released his novel as an "anniversary edition" called LUSO: for Love, Liberty, & Legacy.
The Peter Francisco Story is the only television documentary ever produced about George Washington's "One Man Army."  Travis was the Executive Producer and host of the program taking the audience to museums and other key historic sites from the Revolutionary War.  The short program won a Platinum Aurora Award and still airs on PBS stations around the country today.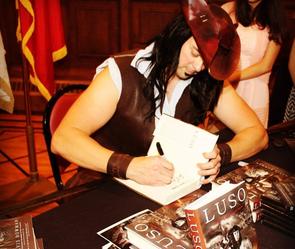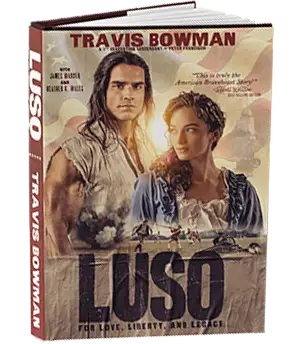 Travis is now working on a miniseries based on his novel LUSO™ and it's currently in the development stage. From 2009-12, film producers from LA to NYC contacted Travis about making a film based on his book, and he even signed with a film company in 2011, but they never followed through with anything that they promised. After being disappointed with film companies, Travis decided to hire his own film team in 2013 to produce the film. 
Travis has traveled to Peter Francisco's hometown in the Azores several times and had the privilege of bringing "LUSO" to life on Terceira Island.  The theater in Porto Judue where Travis performed is right close to Pedro Francisco Avenue in town and just down the street from the church where Peter was christened as a baby.  He was also able to see the historic document which proves that "LUSO" came from the Azores.   
In 2022, Travis Bowman and Brian Patrick Wade formed Into The Storm Productions, LLC and they produced a short film of LUSO™ the Series in early 2023. They signed a distribution agreement with Angel Studios, who is known for The Chosen, and the short film will launch on Angel.com in early 2024. Please check back for details because you will have an opportunity to be a part owner of this historic property.